India News
Meghalaya Meghalaya rains, landslides: 13 killed, 5 missing
Written by Tora Agarwala | Guwahati | Updated: September 27, 2020 12:54:14 am Meghalaya landslide: At least 13 people died in different parts of the state in rainfall-related incidents across the state since September 22, disaster management authorities said. (Source: Disaster management authorities)At least thirteen people were killed in rainfall-related incidents across Meghalaya since September…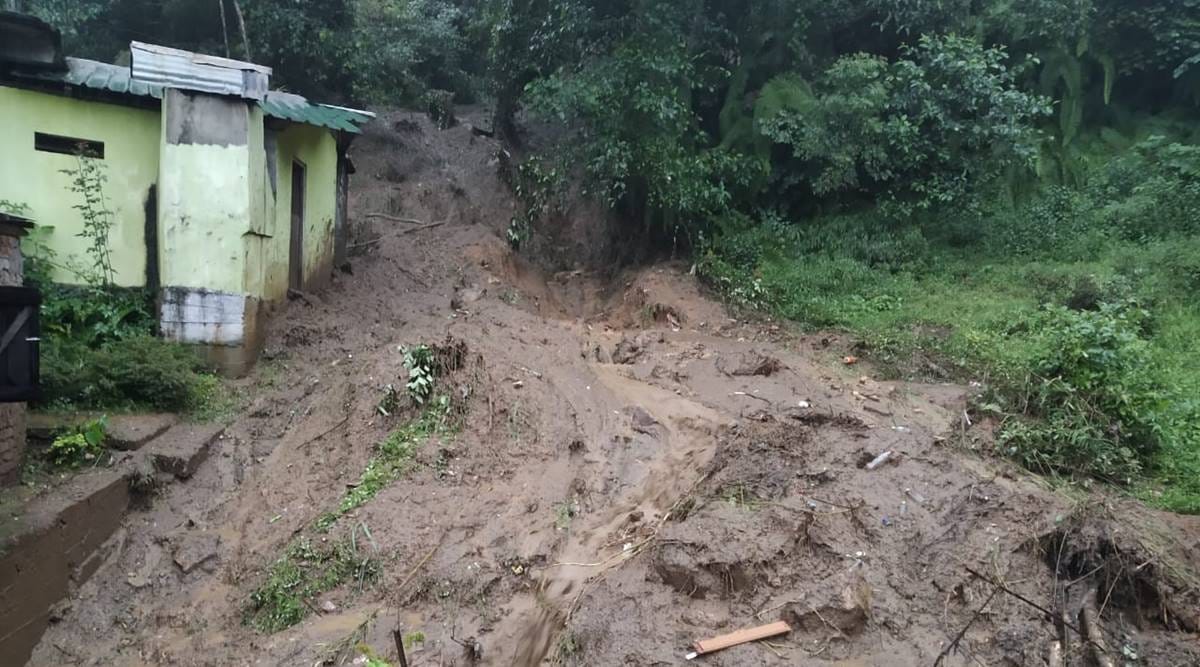 Meghalaya
Written by Tora Agarwala
| Guwahati |

Updated: September 27, 2020 12:54:14 am

Meghalaya landslide: At least 13 people died in different parts of the state in rainfall-related incidents across the state since September 22, disaster management authorities said. (Source: Disaster management authorities)
At least thirteen people were killed in rainfall-related incidents across Meghalaya since September 22, disaster management authorities said on Saturday.
According to a district-wise cumulative report issued by the State Disaster Management Authority, five people remain missing while a total of 985 people in 37 villages across East Khasi Hills, West Khasi Hills and Ri Bhoi districts have been affected because of the continuous downpour over the past week. The rainfall has abated since Saturday morning.
The landslide at the Laban area killed two people on Friday. (Source: Disaster management authorities)
Among the victims, are two women cricketers who were killed in a landslide on Friday which struck their homes in lower Lumparing Dhobi Ghat, situated in the Laban area of East Khasi Hills district. Three others from the area are still missing.
Image from Kynshi area in West Khasi Hill district. (Source: Disaster management authorities)
The district's Deputy Commissioner, Isawanda Laloo, said, "Two bodies — that of Razia Ahmed and Feroza Khan — were retrieved from the debris, while three others remained missing. Rescue efforts are on to find them." Of them, Razia represented Meghalaya at the national level, confirmed a resident of Laban.
"A complete report is awaited after which we will move the government for ex-gratia for the families," said Laloo, adding that other residents in the vicinity had been evacuated to safety.
E-commerce Recharge Payment & Affiliate Apps
REFERENCE CODE JZE492365
App Install For Register
The Regional Meteorological Department, Guwahati, had issued a red alert for Meghalaya, Arunachal Pradesh and Assam between September 24 and 25, predicting heavy to very heavy rainfall and thunderstorms in isolated places. So far, several bridges have collapsed and roads damaged in different parts of Meghalaya, as a result of landslides and flash floods.
In Assam, a fresh wave of floods has affected over 1.7 lakh people in Dhemaji, Morigaon, Nagaon, West Karbi Anglong, and Lakhimpur districts. Since May, floods in the state have resulted in 118 deaths.
📣 The Indian Express is now on Telegram. Click here to join our channel (@indianexpress) and stay updated with the latest headlines
For all the latest North East India News, download Indian Express App.
Subscribe to the newsletter news
We hate SPAM and promise to keep your email address safe